I was born and raised in Grand Rapids, Michigan - and I've loved music ever since I was a little kid. My parents started me in piano lessons in kindergarten, and I've played instruments such as guitar, recorder, organ, and string bass - both professionally and for my own amusement.
Over the years, I've done a whole slew of remixes, edits, mashups, and other various projects; however, I haven't given as much motivation and effort to getting my works released officially. This picture below is a scan of my first published work, a David Morales megamix, where I helped contribute to the compiling of the songs, and researching the copyright details, publishing companies, and songwriters.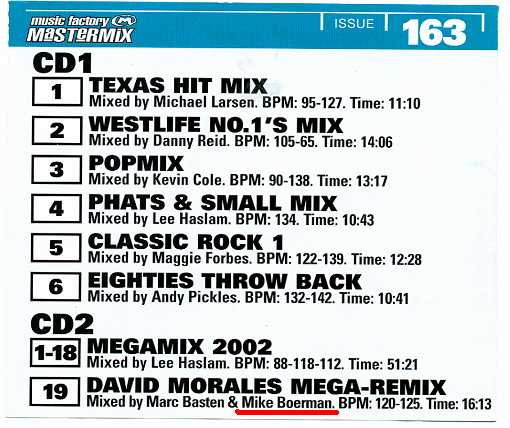 That's me! Before I even came up with the name "DJ MichaelAngelo" I was just plain old Mike Boerman (or "DJ Mikey J" as any of the WFSU listeners will tell you!) I can remember using the multi-media room at Ferris State University (which was really just a cold, drafty room with about a dozen old standup electronic keyboards) to create my very first "remix" ever, a re-creation of the Brothers In Rhythm Mix of Billie Ray Martin's "Your Loving Arms".
Back in those days (this was almost a decade ago) I was completely unfamiliar with the concept of mixing, EQ-ing, sequencing, mastering, or anything resembling original production. So I recorded a few keyboard takes (strings, bass, piano, etc) and combined it with the Morales Drum Dub of Janet Jackson's "When I Think Of You" for my beats, then used my mixing board and dual CD players to lay the acapella of BRM on top of that.
This was years before I actually would start using a computer to do remixes. I did it all the old-fashioned way....which is painfully obvious if you've heard the clip!
Fast forward to December of 2000 where, upon graduation from college with a Bachelor's Degree in Music Industry Management, I was immediately offered a full-time position at a nearby radio station, 98.5 WUPS out of Mt. Pleasant, Michigan. While there I started experimenting with a program called Cool Edit Pro, which to this day is the only program I use to do editing, remixing, and mashups.
It was during this time when I played around with the software, throwing together the first widely-available "Will & Grace remix" during the TV show's second season. Other projects around this time included a similar "clip/cutesy" remix for the TV show "The Weakest Link" and a dance mix to Geri Halliwell's ballad "Walk Away" using some old Thunderpuss Beats.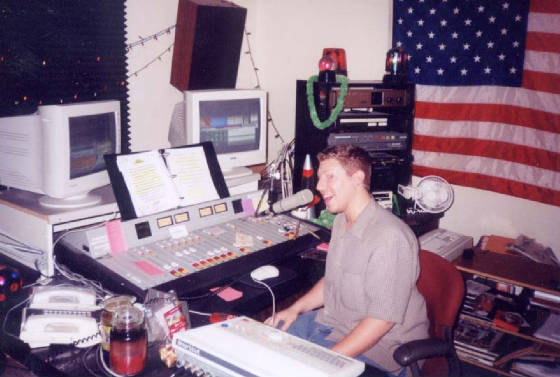 The first mashup remix I ever did was for the song "Music" by Madonna. I took Strike's Pink Wig Dub of "My Love Is For Real" by Paula Abdul, sped the pitch up by WAY too much (in order to match the key Madonna was in -- G minor if I remember correctly) edited it down, and threw the Mo acapella over it. All of about 4 minutes long, it makes me cringe to this day listening to it. (That's also why you won't find a clip of it in the Demo Remixes section!)
It never dawned on me that the resulting 160 BPM frantic mess would be too fast for any DJ to play in any club, I just had fun doing it on a friend's computer. I did 2 other mashups to Madonna's "Music", one using a Tall Paul instrumental, the other one using the David Morales Dead Zone Mix of a song called "I'm The One You Need" by Jody Watley. (The resulting mashup was about a minute and 40 seconds long, as I recall.)
The first club I ever DJ'd in was Diversions Bar & Grille in Grand Rapids, MI. I trained under the very talented Timmy Townes and DJ Craig who taught me all about beat-matching, tempo changes, reading your crowd, and all that fun stuff. In 2003 I moved to Phoenix, AZ where I spent some time DJ-ing at Club Pulse before deciding that a more "behind the scenes" approach is something I'm more comfortable with.
Since then I've been working on mashups and megamixes on my home computer and distribution on the internet to clubs, DJ's, and remix fans all around the world. My mixes have been played everywhere from NYC to LA Pride, the UK and Japan, to Turkey and Australia - by big name DJ's such as Tony Moran, Julian Marsh, and Lenny Bertoldo. My recent mashup for Mariah Carey's "Shake It Off" went to #14 on the Billboard Dance Radio Chart in Oct '05, and was included on Abercrombie & Fitch's in-store music CD's that are played at all 800+ stores throughout the US. The "MichaelAngelo Meets Morales Mix" (I had a blast coming up with that name!) has also gotten airplay on New York City's top-rated station Z-100, as well as gyms and fitness clubs all across the country.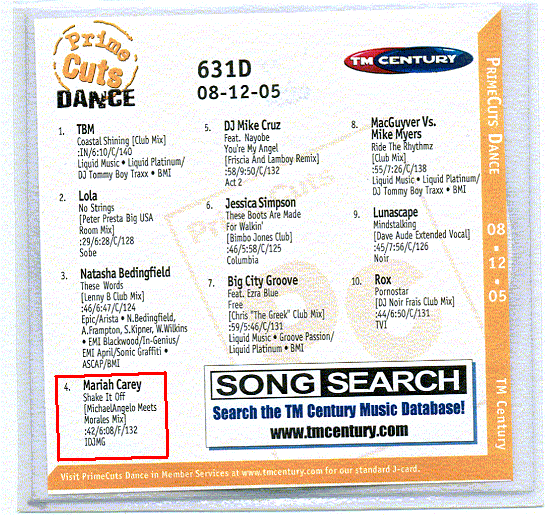 The DVD/video DJ service promo company "Rockamerica" even did a remix video to my mashup of "Shake It Off" and included it on their October 2005 issue. I'd have to say that without a doubt, this song has gotten me the most exposure out of any project I've ever done. It was really an easy match, Morales' Instrumental for "Itchycoo Park" with the classic housey beats, beautiful pianos, Hammond B3 organ, and flute solo.....oh yeah baby!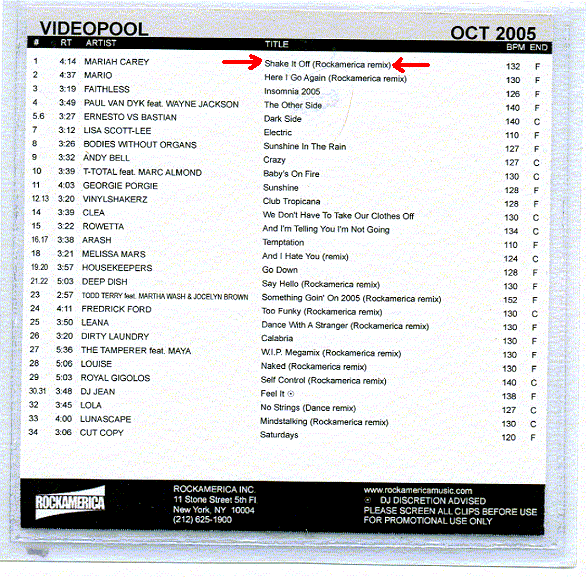 People will ask me why I do mashups when I have the keyboard skills to become potentially a talented remixer, doing original productions. The easy answer to that question is that I'm a perfectionist. I hear so many bad amateur bootleg mixes that sometimes make me cringe. If I were to ever attempt a remix entirely from scratch, my own original production, it would have to be absolutely flawless. I would never put my name on anything that I felt was sub-standard. I'm a little bit afraid of having any original mix I do sound like some of these half-ass bootlegs I hear, and with mashups, I know that the end result will sound perfect (even if the production itself is not mine). Does that make sense?
Here's a better analogy: Imagine you're an expert wood-craftsman building a bookcase. You've gone to trade school, had years of experience, and spent $100's of dollars on the materials to build your bookcase. You cut down the tree, saw the boards, sand them down, apply the varnish and sealcoating, then draw up the diagrams for the frame. You put the pieces together, figure out what should be nailed and what should be screwed, and assemble your bookcase with great loving care. It may take you several hundred dollars and many weeks worth of working on it to get it just right, but in the end, it's all finished and it's completely yours: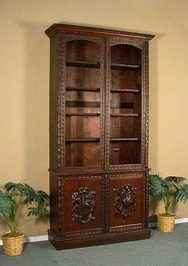 Okay, now pretend you're just an average person who wants a bookcase and goes to IKEA, spends $30 on one that takes 10 minutes to put together: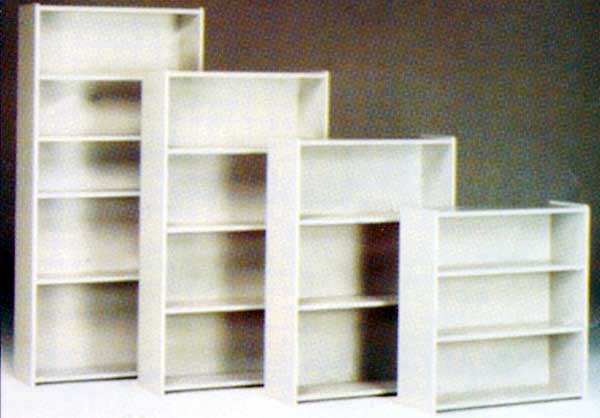 In this example, my mashups are kind of like the bookcases from IKEA -- there's nothing to be ashamed of, having one in your home (the company did what, $12 billion in sales last year?) and millions of customers enjoy their products, even though they may not technically be authentic, geniune, hand-crafted works of art. What I'm trying to say (in this hokey mixed metaphor) is that I do mashups because I'd rather have the IKEA bookshelves in my home (even if they're mass-produced and homogenized) as opposed to taking a chance on constructing something original, and having it turn out like this:
Making a living in the dance music industry is awfully tough, so I work a 9-5 job for a company which prepares legal documents for construction firms. During my spare time I do mashups for my own amusement, and used to do re-edits for Hot Tracks (a DJ-service promo subscription series). I also take full-length existing club mixes which are anywhere from 8 to 12 minutes long, and edit them down to radio-length mixes. Dance radio station KNRJ in Phoenix plays my edits and mashups in pretty constant rotation; in fact back in 2005 my Mariah Carey "Shake It Off" mashup was the most-played song on the station for 3 weeks in a row.

The playlist above was taken from KNRJ's website -- the letters LW stand for "last week" and TW mean "this week". In other words, my Shake It Off mashup got played 52 times during that week. Which averages out to about 7 times per day, or once every 3 hours or so on the air. You'll notice that 2 other songs shared this distinction: Kelly Clarkson's "Because Of You" and another mashup I did, the Black Eyed Peas "My Humps" which also received some airplay on Seattle's dance station 89.5 KNHC. The red dots above indicate mashups I did, the green dots are club mixes I edited for radio airplay.

Thanks for reading everyone, and as always - any comments, questions, and feedback are welcome. I've actually made such a name for myself with my mixes that this website gets about 1,000 visits every month. But I respond to every person who writes to me, if you email me I'd really love to hear from you!

In the meantime, a couple last scans. The second is an invitation to a networking event where I was a featured guest, at the Billboard Dance Music Summit in Las Vegas. This was the first event like this I had attended, and I had a blast. Can't wait for next year! As for the Billboard magazine page - my highest-charting remix was, as I mentioned, Shake It Off by Mariah Carey. It was technically not a released mix approved by the record label; and I understand it's uncommon for an unofficial remix (much less a mashup!) to chart so high on the Billboard Club charts. Here it is at its peak position, #14 in October of 2005: